My 917km Trip Across Romania to Get a Corona Vaccine
Last week I travelled 917 kilometres across Romania to Caransebeș and Slatinia-Timiș in order to get my corona vaccine. In this rather unusual trip report I will detail the experience!
Getting a corona vaccine
Those of you who follow me on Twitter might have already seen some snaps from my vaccination trip, but for those who have not read anything yet I will sum up the situation.
In Romania, most of the elderly, doctors, nurses and vulnerable people (those suffering from chronic diseases or other medical conditions) have already been vaccinated.
This is why on 15th March, the Romanian government opened the national vaccine portal for the general population.
Every resident could now either sign up for a vaccination slot outright, or put themselves on a waiting list if their preferred vaccination centre does not have any vacancies.
If a spot becomes available, people on the waiting list will be called up and get the chance to register for one of the open slots.
The elderly and vulnerable who have so far waited out the vaccination campaign or refused a jab still have the chance to register as well and will be automatically put on top of the waiting list if they change their mind.
Waiting lists
Generally speaking, I think it is a great system which in practice works really well.
Compared to many other countries in Europe, Romania's vaccine roll-out is not plagued with major errors, faulty IT platforms or distribution hick-ups.
The best of all is that you can also sign up for a vaccination centre which is not in your city or neighbourhood.
This is great because obviously waiting lists are longest in the big cities such as Bucharest and Cluj, while countryside vaccination centres may still have vacancies.
This is why I decided not to sign myself up for any of the Bucharest waiting lists when the platform opened for the general public.
Instead, I immediately managed to reserve myself a vaccination slot in a small town called Slatina-Timiș.
Travel
Slatina-Timiș might be quite a distance away from Bucharest (458.5 kilometres one-way when using public transport to be precise) but I rather wanted to have the vaccine as soon as possible.
Sure, the health benefits both for me as well as those around me are important, but to be honest the biggest reason why I felt the urge to get the corona vaccine as soon as possible was the fact that I would be given a vaccination certificate.
As someone who loves to travel and who has family and friends all over Europe, it is important to me that there are as few possible barriers.
An increasing amount of countries (Poland, Iceland, Greece, Georgia just to name four) have already announced or even implemented laws exempting vaccinated travellers from PCR tests and quarantine on arrival.
The same counts for Romania as well.
The country works with a so-called 'yellow list' (lista galbenă) which lists countries with a high epidemiological risk.
Basically, these are all the countries with a higher corona virus infection rate per 100,000 inhabitants than Romania.
If you arrive from one of these countries in Romania, you need to show a PCR test and have to self-isolate for two weeks on arrival.
Guess who are exempted from this rule? Yep, vaccinated travellers.
This was perhaps the biggest reason of all why I wanted to have that COVID-19 jab.
So how did my trip to the vaccination centre look like, and did I manage to get my jab in the end? Let's find out!
10.35am – București Gara de Nord
As Slatina-Timiș has decent rail connections I decided to go by train instead of renting a car and driving there.
Driving would have been faster and I could have done it in a (very long) day, but the train had the major advantage that I could still get some work done while travelling.
Besides, it's a much more relaxed way to travel than spending almost an entire day behind the wheel!
My journey started at 10.35am at Bucharest's main railway station called 'Gara de Nord' (Northern Station).
I came early so I had some time to buy and drink a coffee before my departure.
11.07am – The train arrives
As a terminus station, departing trains from Gara de Nord have to be shunted into the station from the nearby railway yards. At 11.07am, my train was shunted to platform 1.
This train, IR1691 to Timișoara Nord, would be my ride for the next couple of hours.
The train is operated by national railway company CFR (Căile Ferate Române).
11.08am – Taking my seat
Although train IR1691 would go all the way to Timișoara Nord, I was only booked on it until the station of Caransebeș where I would get off.
I paid 133.40 RON (27.12 EUR) for a first class ticket to Caransebeș, a 435km ride which is supposed to take 8 hours and 18 minutes.
Those who are good at maths can already calculate the average speed to get an idea how slow Romanian trains can be!
That said, the first class seats on these InterRegio trains are comfortable.
Although there is no WiFi internet, each seat has a power socket and a firm tray table, which allowed me to be productive on my laptop during the ride.
11.15am – Departure!
11.20am – Bucharest railway yards
The first bits of the journey will take you along the large Basarab and Grivița railway yards just to the north of Gara de Nord where both new, old and completely abandoned trains can be seen.
11.50am – The Wallachian countryside
The landscape around Bucharest isn't the most exciting.
The countryside of Wallachia, as this part of Romania is called, is mostly flat except for the odd bits of rolling hills.
At 12.04pm, the train rolled into Videle station, the first stop on its journey to Timișoara.
12.30pm – Time for lunch
As there is no restaurant wagon on this train, I brought my own lunch for the ride.
A homemade cheese-chorizo sandwich and a can of beer did the trick.
At this point, the Wallachian countryside was getting a bit more diverse as we were crossing some small rivers and escarpments.
It's just too bad there is a lot of littering besides the tracks – something which unfortunately is a general problem in Romanian society.
At some points along the tracks the amount of empty cans, bottles, packaging and other rubbish was enormous.
12.55pm – Roșiorii de Vede
Just before 1pm, the train arrived at the station of Roșiorii de Vede, a major road and railway junction.
So far the journey was going smooth.
2.05pm – Crossing the River Olt
At just over 2pm, the train crossed the bridge over the River Olt between the towns of Drăgănești Olt and Caracal.
The Olt is quite wide as more than 40 reservoirs for drinking water, irrigation and hydroelectricity have been built in its river basin.
The River Olt also marks the boundary between the historical region of Muntenia (Greater Wallachia) and Oltenia (Lesser Wallachia).
3.10pm – Craiova
Craiova is the largest city between Bucharest and Timișoara and is a major railway hub as well, which means that most trains will halt here for a couple of minutes.
By the time the train arrived in Craiova, we had already racked up a 32 minute delay. Especially the part before the Olt river crossing went excruciatingly slow and at one point the train even had to stop completely in the middle of nowhere for a good 15 minutes.
Craiova station may very well be one of the ugliest structures in all of Romania. Similarly, the views over the city as the train approaches aren't exactly great either as it's mostly communist-era apartment blocks and factories.
That said, Craiova is a lively university city and reportedly has a small but pleasant old town hidden between all the ugliness you can see from the railway tracks.
I haven't managed to visit it yet but it's certainly on my list.
3.45pm – Somewhere in Oltenia
Once past Craiova, the scenery becomes greener and more diverse.
It also helped for sure that by now the sun was out in full force.
Finally we picked up some speed as well as the train raced down the line towards Drobeta-Turnu Severin.
5pm – The first glimpses of the Danube
Shortly after the train halted at Balota station I finally managed to spot the Danube River from the window.
At this point, the railway line is built on top of a hill high above the Danube river valley and the surrounding countryside and forests.
It even allows you to peek deep into Serbian territory at the other side of the river.
5.15pm – Balota to Drobeta Turnu Severin
It's only 12 kilometres between Balota and Drobeta Turnu Severin as the crow flies.
The railway line between these two stations is however 19 kilometres long, with trains taking 32 minutes to cover this small stretch!
Why? Balota is on top of a hill, Drobeta Turnu Severin is all the way down the hill on the banks of the Danube.
As railway lines can only have a certain maximum gradient, it means the tracks zigzag down the hill in multiple loops.
Coupled with some old infrastructure it means that maximum speeds are excruciatingly slow on this stretch.
That said, it's a beautiful part of the line which is fun to ride.
The line sneaks through a forest down the hill and at times you have some great panoramic views over the surrounding countryside and the Danube.
Just listen to the great railway sounds of the video below.
Due to all the breaking, the entire train even started to smell like a car with a massively overheated clutch!
5.36pm – Drobeta Turnu Severin
Right after the downhill run the railway tracks start to follow the course of the Danube.
At 5.36pm the train pulled into the station of Drobeta Turnu Severin, somehow having won six minutes back from the 32-minute delay we posted in Craiova.
Drobeta Turnu Severin is the capital of Mehedinți County and a major river port on the Danube.
5.50pm – Iron Gates
One of the highlights of the train ride between Bucharest and Timișoara is the stretch between Drobeta Turnu Severin and Orșova.
In between these two cities, the railway line runs parallel to the Danube the entire time.
We are now entering the 'Iron Gates' (called 'Porțile de Fier' in Romanian), which basically is a 134 kilometres (83 miles) long gorge carved out by the mighty Danube.
The Romanians and Serbians (or should I say Yugoslavians?) built a massive hydroelectric dam here which was completed in 1972.
The dam doubles as a border crossing between Romania and Serbia at the other side of the river.
It really is a highly scenic stretch of the railway line and I was lucky enough to hit it right at the moment when the sun was setting.
Sometimes a delay can actually turn out to have some positive side effects!
6.10pm – Orșova
At 6.10pm, the train pulled into the station of Orșova, another major city and port on the Danube.
At this point, the total delay went up again a bit to 28 minutes in total.
If you travel any distance by train in Romania, never count on an arrival according to schedule.
That means that you should never plan in tight transportation connections or important meetings right after your journey.
6.35pm – Băile Herculane
After Orșova, the railway line leaves the Danube behind as it follows the course of the Cerna River upstream into the mountains.
Some 25 minutes later, the train reaches the station of Băile Herculane, which has to be one of Romania's finest and at the same time most derelict stations of all.
Băile Herculane used to be a major spa town famous for its sulphuric springs.
It was a favourite destination for Habsburg royalty – and the beautiful architecture in town reflects this.
Sadly, almost all of it is in a deeply neglected state, although some attempts are underway to restore Băile Herculane to its former glory.
8.08pm – Caransebeș
The stretch between Băile Herculane and Caransebeș does have some fine mountain views but as it was getting dark fast I didn't see anything of it.
The train arrived at my destination of Caransebeș at 8.08pm – the final delay thus being 35 minutes.
8.50pm – Dinnertime
My hotel for the night – called Vila Palace – was just a five minute walk away from the railway station.
As the hotel restaurant was nearly closing for the night, I went to dinner straight away.
The tochitură (some kind of meat stew) served with eggs and mămăligă (polenta) did the trick after a long journey.
10.30pm – Time to sleep
As I had to get up early the next day to travel to the nearby town of Slatina-Timiș for my COVID vaccine, I went to sleep early.
For around 35 EUR, my room at Vila Palace lived up to expectations as I had a good night of sleep.
7am, day 2 – Caransebeș station
At 7am I found myself back at the railway station of Caransebeș with plenty of time to spare until the 7.28am departure to Slatina-Timiș.
For this 32-minute ride covering just 21 kilometres I paid 4.40 RON (0.90 EUR).
I could also have taken the night train from Bucharest to Caransebeș to connect with the train to Slatina-Timiș.
The overnight train would have arrived in Caransebeș at 6.21am, which normally leaves plenty of time to connect with the Slatina-Timiș train.
However, big delays are not uncommon when travelling by train in Romania and since I had no clue how the whole vaccination procedure would be I opted to play it safe and spend the night in Caransebeș as I really did not want to risk missing the morning train to Slatina-Timiș.
7.28am, day 2 – Departing from Caransebeș
The 7.28am departure is the regional train towards Orșova, so basically I would now backtrack on the same line on which I travelled the day before.
As a regional (R) train, this service however stops at all intermediate stations, including Slatina-Timiș.
The three-carriage train – unreserved 2nd class only – has comfortable seats in compartments.
The passenger load was relatively light so I ended up having a compartment to myself.
8.15am, day 2 – Slatina-Timiş station
The train eventually arrived at the small station of Slatina-Timiş at 8.15am – which meant that on the short stretch of 21 kilometres it already racked up a 15 minute delay.
8.20am, day 2 – Walking to town
The train station of Slatina-Timiș is located in the middle of nowhere some two-and-a-half kilometres out of town.
It is a beautiful walk from the railway station to the town centre and there are some lovely views over the meadows and nearby mountains.
At first, the path runs right alongside the railway tracks, from where it forks off towards the main DN6 road, a busy provincial artery used by lots of long-distance lorries on their way to Bulgaria and Turkey.
After crossing the DN6, it is still a kilometre walking to the actual town of Slatina-Timiș.
You have to cross the River Timiș, which you can do by walking across one of the normal bridges or by taking the more adventurous route over a rickety old wooden suspension footbridge.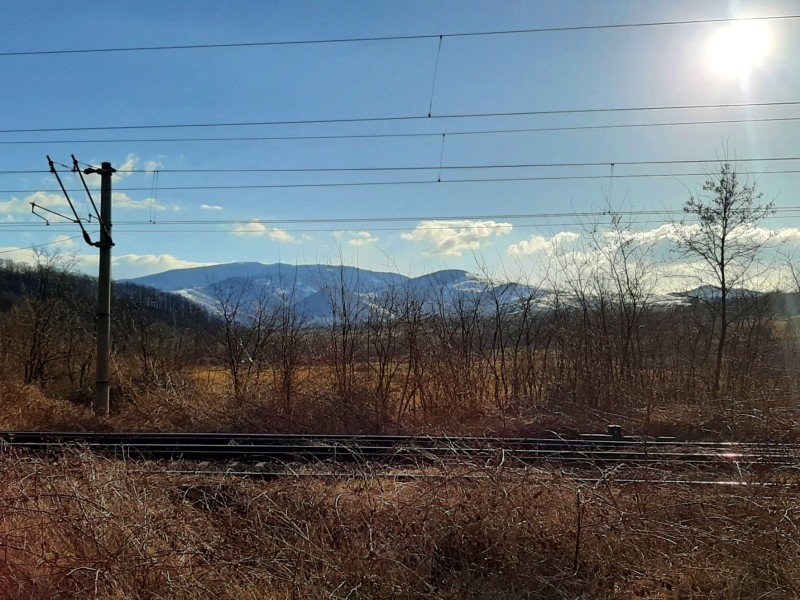 8.45am, day 2 – Slatina-Timiș
At 8.45am I arrived in the town of Slatina Timiș proper.
As my vaccination appointment was only at 10am, I had some time left to explore a bit around.
To my surprise Slatina Timiș actually was a delightful little town.
The streets, houses and public spaces were well-maintained, the views over the surrounding mountains were great, and the locals were all immensely friendly.
Slatina Timiș is the kind of town where everybody still greets you on the street and some passers-by even stop for a short talk despite the fact that I'm a complete stranger.
The town has a small community centre, a high school, city hall, bank and two or three shops and cafés.
As the sun was shining and the local cafés were still closed, I just decided to sit on a bench to soak up some sunrays for a while.
9.30am, day 2 – Getting vaccinated
Half an hour before my appointment I walked into the local clinic which is temporarily used as vaccination centre.
The friendly employees explained it was not a problem at all that I was a bit early and told me that I could immediately receive my jab.
However, I had to fill in a health questionnaire first, answering such questions whether I had any pre-existing medical conditions or ever suffered before from adverse reactions to any other vaccine.
At the same time, they scanned the QR code on my vaccination registration document to confirm I was indeed on the list to receive the corona jab.
After the verification, I was asked to sit in a waiting room.
Just five minutes later I was called forward to go to another room where I would receive the actual corona vaccine.
The vaccine bottle which was used (Moderna) was clearly shown to me before the doctor took out a needle to give me the actual jab. The injection itself was completely painless.
Immediately after receiving the jab, another doctor checked the pupils of my eyes and asked how I felt.
I was told that I had to wait for 15 minutes more to make sure I didn't develop any immediate adverse reactions.
Fifteen minutes later the doctor performed another check and I was given the all clear.
With my vaccination certificate in hand, I thanked all the doctors and nurses involved in the smooth vaccination process and left the building.
10am, day 2 – Back to Caransebeș
Having received my first vaccination, it was time to travel the 458.5 kilometres back to Bucharest.
The first train back to Caransebeș was only supposed to depart at 1.10pm – although I wasn't completely sure of that.
The CFR travel planner mentioned that this train was not running and replaced with a bus service due to ongoing track works.
From where this bus would depart I did not know.
Would the bus indeed drive all the way up the small, rough road to the station of Slatina Timiș? Or would it depart down the hill from the main road as it is more accessible for a large bus?
Fortunately, I didn't have to find this out as I was approached by a friendly local who asked whether I wanted a ride back by car.
Two guys who had driven from Timișoara to Slatina-Timiș to get vaccinated were about to drive back home and still had two spots left in their car.
Given that Caransebeș is located on the road to Timișoara, they offered me a free ride into town, which was much appreciated!
10.40am, day 2 – Caransebeș
The guys dropped me off on the outskirts of Caransebeș next to the Kaufland supermarket.
In the car I told them that I was planning to find a café or restaurant in town to eat something and to get some work done on my laptop.
They recommended me a place called Pizzeria Roberto right next to Kaufland.
As I had skipped breakfast entirely and it was a bit too early for lunch, I just ordered some papanași (fried doughnuts covered with sour cream, jam and some red fruits).
3.30pm, day 2 – To the city centre
After a couple of productive hours working from the restaurant, I was finally done with all the work I needed to do.
As my train back to Bucharest was only departing in the evening, I still had quite some time left to explore the city of Caransebeș.
Although I could have taken the bus or taxi to the city centre, I decided to walk the 30 minutes or so into town.
4.20pm, day 2 – Time for a beer
There are several cafés and pubs in the city centre of Caransebeş where you can stop for a drink.
At just 5 RON (1.1 EUR), a pint of beer is a steal in Caransebeş.
In entire Romania, bars and restaurants are allowed to serve customers if they are seated on an outdoor terrace.
In the counties with good epidemiological data – among which is Caraș-Severin County where Caransebeş is located – indoor places are allowed to open as well, although there are maximum capacity limits.
No side effects from the corona vaccine so far.
My beer tasted just as good, although my 4G internet connection on my phone did remarkably improve compared to earlier in the day!
5.30pm, day 2 – A walk along the river
After I finished the beer, I went out again to explore the city a bit more.
The city centre of Caransebeș is dominated by two churches: a Catholic and Orthodox church standing opposite each other at the far end of the pedestrian street.
On the nearby square here you can find a sign which notes that Caransebeş was declared an "oraş martir" (martyr city).
This is due to the fact that three people died when the town rose up against Ceauşescu on 21st December 1989.
It followed earlier protests in nearby Timişoara, the city where the Romanian Revolution against the communist regime started.
A bit out of the city centre you can find another pleasant footpath along the River Sebeş from where you have some great vistas over the snow-capped Carpathian Mountains to the north and east.
Along this path you can also find the local market, which was pretty much deserted at this late afternoon hour.
The walking path ends at the confluence of the River Sebeş and River Timiş, the same river which I crossed earlier this day on the rickety footbridge in Slatina-Timiş.
8pm, day 2 – Dinner
Back in the city centre I stopped at Salon Nicol for dinner.
The 'mici' (grilled ground meat rolls) and red wine were tasty.
9.50pm, day 2 – Walking back to the station
After dinner it was time to head back to the railway station for my overnight train to Bucharest.
Due to the corona virus pandemic all bars and restaurants in town have to close before 10pm – the hour at which the national curfew in Romania starts – so I had no other choice but to wait at the train station instead of a warm and cosy pub.
The walk from the city centre to the train station was rather spooky as I passed by quite a few abandoned buildings and train carriages along the way.
The train station of Caransebeș could also easily be used for a Hollywood horror film as well.
Half the lights were broken and the other half were only flickering every few seconds.
10.10pm, day 2 – Waiting for my train
My train to Bucharest would only depart at 11.11pm – so I still had plenty of time to spare.
Apart from three or so other travellers, three railway workers and an equal number of homeless persons the station was quite empty at this hour.
Unfortunately all train station kiosks were closed so I couldn't buy a beer for in the train. Bummer!
11.11pm, day 2 – The Astra Trans Carpatic arrives
To travel back to Bucharest, I was booked on the overnight service of Astra Trans Carpatic, a privately-run competitor of the Romanian national railways (CFR).
The train originates in Arad and had previously called at the stations of Timișoara and Lugoj before arriving in Caransebeș right on the dot.
11.20pm, day 2 – Time for a shower!
I've travelled on Astra Trans Carpatic a couple of times before and it's my favourite train in Romania by a mile.
For 315 RON (64 EUR) I was booked in a 'lux' sleeper compartment for private use.
You can instantly see that Astra takes great care after its brand new rolling stock.
Compared to CFR night trains, which often use sleeper and couchette wagons from the 1980s, Astra Trans Carpatic offers a state-of-the-art product which wouldn't even look out of place in a country like Japan.
My compartment had a comfortable bed and even its own en-suite bathroom with shower!
For a full review of the Astra Trans Carpatic service, do check the link above.
I had a quick shower, read a few pages from a book and went to sleep soon after.
7am, day 3 – Waking up in Wallachia
After a good night of sleep I woke up just before 7am as the train approached the city of Bucharest at full speed.
It seemed to be a bit of a cold morning as there was some fresh snow besides the tracks.
Springtime is clearly late this year!
7.12am, day 3 – Approaching Bucharest
At 7.12am, the train slowed down as it approached Bucharest Gara de Nord, overtaking several CFR trains along the way.
7.15am, day 3 – Arriving at Bucharest Gara de Nord
At 7.15am, the Astra Trans Carpatic arrived at Bucharest Gara de Nord – 5 minutes before the scheduled time of arrival.
It was a pleasant and quick overnight ride and I felt fresh and rested when I disembarked the train.
Back home
So there we are, back again at the place where the entire corona vaccination trip across Romania started: Bucharest Gara de Nord.
In total, I covered 917 kilometres by train, car and on foot – and that's even excluding the distances which I walked in Caransebeș.
From departure to arrival, the trip across Romania to get the corona vaccine took exactly 44 hours and 40 minutes.
In all those hours, I saw some gorgeous landscapes, pretty towns, had a couple of beers and glasses of wine – and of course received my vaccination against the corona virus.
Of course, the Moderna corona vaccine requires a 2nd booster shot four weeks after the first jab, which means that soon I have to go all the way back to Slatina-Timiș again.
Sure, it takes some effort and money to make the trip, but I absolutely enjoyed the whole journey and being vaccinated will make future travels significantly easier in the months to come.
Apart from a slightly swollen arm around the injection spot the day after (which is a normal side affect from a vaccine) I still feel perfectly fine, so I cannot wait for the second jab to get this thing over with completely and to start planning some future trips!
Second shot
If you are curious about my second trip to Slatina-Timiș to get the 2nd jab, you can read that article here.
Spoiler: It ended up being quite an adventure thanks to a train accident, subsequent delay and some heavy vaccine side effects kicking in…
Never miss out on news and flight deals
If you want to stay up to date on the latest travel news and trip reports, make sure to regularly check the Paliparan website.
We also recommend you to regularly check the flight deals section on Paliparan.com to ensure that you will not miss out on great travel deals or special sales.
Or subscribe to our Twitter, Facebook and Instagram and pages to receive instant Paliparan updates!