Review: VIP Lounge Costa Rica, San Jose Airport (SJO)
In this lounge review, we will visit the VIP Lounge Costa Rica at San Jose Santamaria Airport (SJO).
Getting to the airport
After a short but fun stopover in the Costa Rican capital of San José, it was time to head back to the airport for my KLM flight to Amsterdam. Just like I did on the way into town, I took a bus between downtown San Jose and the airport.
San Jose Juan Santamaria International Airport looks quite neat landside as the check-in area felt bright and spacious. As I already had my boarding pass printed earlier in the day in Panama, I could proceed right away through the security check.
San Jose Airport
Getting through security and passport control was a breeze as the crowds where light. Within minutes, I found myself landside.
I found San Jose Juan Santamaria Airport to be a little bit weird in the way that some parts felt hugely cramped and claustrophobic, while others were looking much more spacious and modern.
Before heading to the lounge I used my last US dollars to buy some coffee liquor and other souvenirs, which took much longer than expected as I never seen an airport shop so overcrowded as the alcohol store at SJO.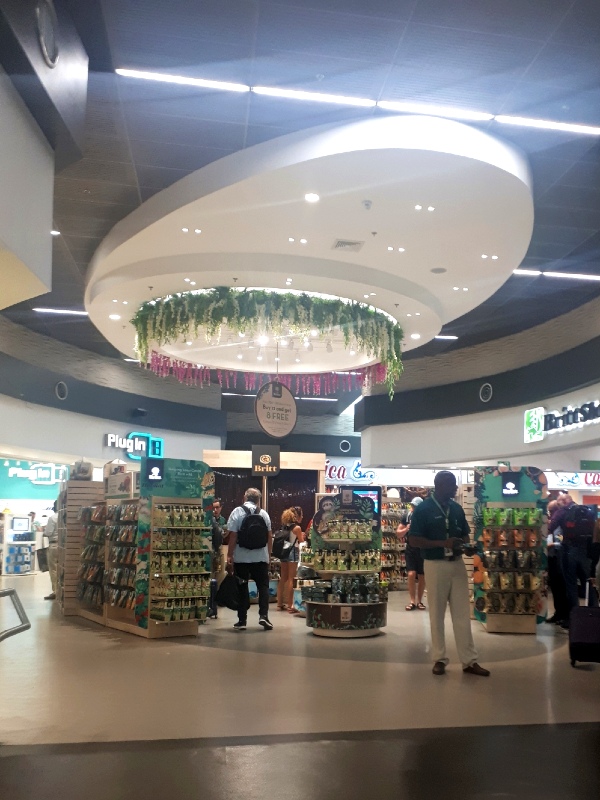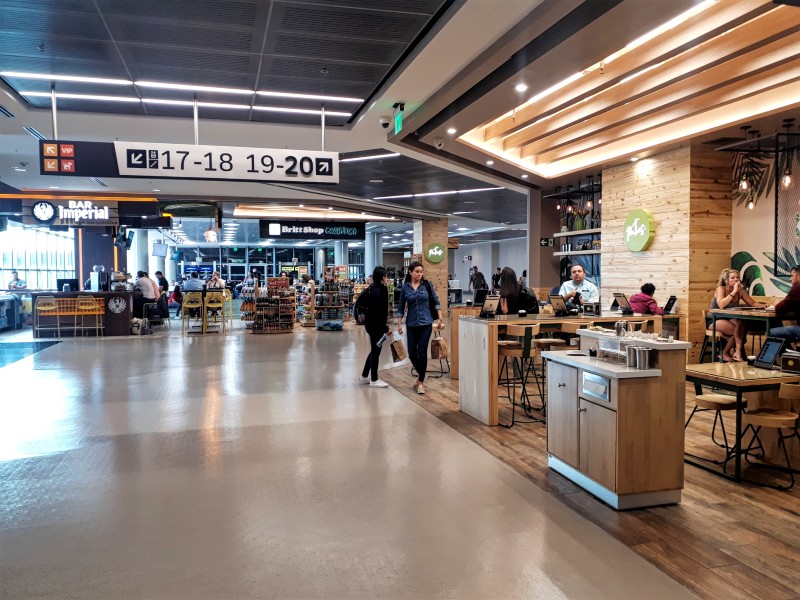 Santamaria VIP Lounge
When departing on a KLM (or Air France) flight out of San Jose, I could use both the VIP Lounge Santamaria as well as the VIP Lounge Costa Rica. As the Santamaria VIP Lounge was unfortunately closed for some reason, I had to head to the VIP Lounge Costa Rica instead.
Usual lounge entry rules apply, which means that you need a same-day business class ticket on KLM or Air France out of San Jose, or have a high enough frequent flyer status (Flying Blue Gold/Sky Team Elite Plus or higher).
The San Jose VIP lounges are however also accessible with most lounge membership cards, such as Priority Pass.
As a Flying Blue platinum member flying in economy class, I also had access to visit the lounge.
Exploring the lounge
The VIP Lounge Costa Rica was packed to the brim when I entered it. I think I even managed to grab what must have been the last seat in the lounge.
Although it was insanely crowded when I arrived, the lounge did however emptied out almost completely within half an hour as two flights to North America departed. It would only get gradually more crowded to about half its capacity when more KLM passengers arrived.
The lounge, which is shaped like the letter L, is rather small. The first thing you will notice is that the premises are rather dark as the lounge lacks windows and thus natural light.
Although the lounge certainly was decorated the best way possible with some design elements and artwork on the walls, it isn't the most cheerful environment. Given the constraints of the physical space, I'd say it scores average grades when it comes to design and vibe.
Seating
When it comes to available seats, your choice is basically between comfortable leather chairs and dining table seats. There are also some bar tables with high top seats, which arguably are the least comfortable seats in the lounge.
Although there are a few power sockets in the lounge, you need to be lucky enough to score an empty seat near them to be able to use one. Fortunately, WiFi internet was fast and reliable in the lounge.
Food buffet
You shouldn't come to the VIP Lounge Costa Rica expecting to score a full meal, as the food buffet only consists of small snacks such as cheese and other small pastries and bites. It really isn't much to write home about.
The VIP Lounge Costa Rica does feature its own bar from where you can get any drink you want. Alcoholic beverages are complimentary, and the lovely lounge employees behind the bar are eager to serve you and to have a small chat.
I just grabbed a small plate of snacks and had a couple of glasses of wine during my stay. Apart from beer and wine, the alcohol selection seemed to be fairly limited.
Other lounge facilities
The VIP Lounge Costa Rica has a small work area consisting of two computers with high top seating which you are free to use. Apart from those seats, there are no dedicated work spaces if you want to work on your laptop so you just have to grab a dining table or leather chair whatever you prefer most.
The lounge has its own toilets, which were kept clean by the staff. Unfortunately, no showers are available at the VIP Lounge Costa Rica.
In short
The VIP Lounge Costa Rica isn't exactly a business lounge for which you would come to the airport early. Although the designers seems to have done the best possible given the space constraints, the lounge still felt rather dark and not very cheerful.
The food buffet was very limited as well despite the early evening hour, although booze was flowing freely from the staffed bar.
Unfortunately I couldn't check out the Santamaria VIP Lounge, which at least on pictures looks slightly better given the tarmac views from the window.
Although the VIP Lounge Costa Rica is acceptable enough for a few drinks before your flight, you certainly shouldn't come in with high expectations.
Trip report index
This article is part of the 'A Piece of Panama With a Bit of Bogota and a Slice of San Jose' trip report, which consists of the following chapters:
1. Review: Air France Economy Class Bucharest to Paris (Airbus A320)
2. Review: Air France Business Lounge Paris CDG Airport Terminal 2E – Hall K
3. Review: Air France Economy Class Paris to Bogota (Boeing 787)
4. Review: Hotel Morrison 114, Bogota, Colombia
5. A Short One-Day Stopover in Bogota, Colombia
6. Review: Copa Club Bogota Airport, Colombia
7. Review: Copa Airlines Economy Class Panama to Bogota (Embraer RJ-190)
8. Review: Tryp by Wyndham Panama Centro
9. How to Visit the Miraflores Locks on the Panama Canal
10. Into the Casco Viejo – Exploring Panama City's Old Town Centre
11. Isla Taboga: A Day Trip to the Island of Flowers
12. A Panama Day Trip to the Portobelo Forts and Tropical Isla Mamay
13. Review: Copa Club Panama Tocumen International Airport
14. Review: Copa Airlines Economy Class Panama to San Jose (Boeing 737-800)
15. Destination San Jose: A Day in the Capital of Costa Rica
16. Review: VIP Lounge Costa Rica, San Jose Airport SJO (current chapter)
17. Review: KLM Economy Class San Jose to Amsterdam (Boeing 787)
18. Review: KLM Crown Lounge (Non-Schengen) Amsterdam Airport
19. Review: KLM Economy Class Amsterdam to Bucharest (Boeing 737-800)