Istanbul Ataturk Airport and the Turkish Airlines Lounge
This review covers my flight from Chisinau to Istanbul and a visit to the old Turkish Airlines lounge at Istanbul Ataturk Airport.
From Chisinau to Istanbul
After a great time visiting the Moldovan capital of Chisinau it was time to travel onward to the real destination of my trip: Uzbekistan.
To reach Uzbekistan, I would fly with Turkish Airlines via Istanbul to Tashkent.
I paid just 3 euro for my taxi to the airport, which is located some 13 kilometres south of downtown Chisinau.
At the airport
It was my third time ever at Chisinau Airport, having flown into Moldova once on a S7 Airlines flight from Moscow and having departed once on a Carpatair flight to Timisoara in Romania.
The bright and modern airport terminal is certainly quite a contrast compared to the crumbling infrastructure you can often find around the country.
Check-in was a bit of a mess as people just shoved their way forward and used the priority check-in line without having the rights to do so.
Fortunately, security and passport control was a breeze and within minutes I was airside.
Chisinau airport lounge
Unfortunately, Turkish Airlines is apparently too stingy to pay for lounge access at Chisinau Airport for their business class passengers and frequent flyer elites as the friendly lady explained that Turkish Airlines sadly does not provide this service.
That said, Chisinau Airport is not a bad place to kill some time.
The airport terminal has comfortable seating, plenty of power sockets, fast Wi-Fi internet and plenty of options to buy a drink or snack for reasonable prices.
It really is a world apart from my hometown airport of Bucharest Otopeni where such facilities are sorely lacking.
Boarding
As there are no jet bridges at Chisinau Airport, boarding is always done by bus.
From the large windows at the gate area you have a great view over the apron where some interesting planes were parked such as an Ilyushin Il-76 from Russia.
Boarding started on time, with both business class and economy class passengers being hoarded in the same bus.
Today's flight to Istanbul was operated by a Boeing 737-800 and I managed to snag a window seat in the emergency exit row.
Chisinau (KIV) to Istanbul Ataturk (ISL)
Flight TK270 – Boeing 737-800
Economy class, Seat 14A
Departure: 10.20am – Arrival: 11.55am
Flight time: 1h35m – Distance: 411 miles
Total costs: 300 USD for KIV-ISL-TAS
Flight to Istanbul
Even though the flight from Chisinau to Istanbul Ataturk Airport only took one-and-a-half hour, Turkish Airlines still managed to do a full meal service and drinks round.
Even though it was only 11am, I decided to get some white wine with my snack box.
Funnily enough, my American seat mate in 14C who already had his drink served also asked for some wine after he realised that Turkish Airlines does serve complimentary alcohol in economy class.
The flight was rather pleasant as I ended up chatting a bit with the American while watching the views from the window.
As we started our descent towards Istanbul Ataturk Airport there were some good views over the new Istanbul airport from the window.
On April 6th 2019 – some five months after my flight from Chisinau to Istanbul Ataturk Airport – all scheduled passenger flights were moved to the new Istanbul Airport and Ataturk was closed.
We got in a bit of a holding pattern over the Black Sea before we started our final descent into Istanbul Ataturk.
Upon landing, there were some nice views over Istanbul and the Sea of Marmara, which was full of anchored ships waiting to pass through the Bosphorus.
Istanbul Ataturk Airport
We landed at Ataturk Airport with a 30-minute delay, but given that my connecting flight to Tashkent would only depart late in the evening I didn't care much about that.
Istanbul Ataturk Airport was infamous for its delays of arriving flights, as the single-runway airport had outgrown its original capacity.
In a decade, the number of annual passengers passing through the airport had more than doubled from just under 30 million people in 2008 to more than 70 million people in 2018.
This massive growth was directly connected to the rise of Turkish Airlines as a global carrier.
I never really liked Istanbul Ataturk Airport as the terminal was always overcrowded and immigration took forever each time I flew to Turkey.
These problems were all solved with the opening of the new Istanbul Airport in 2019, although the out-of-town location of the new airport clearly wasn't an improvement compared to Ataturk's central location.
Istanbul Ataturk Turkish Airlines lounge
Besides its central location and short transport times to downtown Istanbul, Ataturk Airport had one other positive aspect which I still miss at times.
I'm talking of course about the old Turkish Airlines Business Lounge at Istanbul Ataturk Airport.
Of course, the Turkish Airlines Lounge faced some of the same issues as Ataturk Airport as in the last few years of its existence, being way overcrowded at peak hours.
At those hours, it would be nearly impossible to get some work done in the lounge as the Wi-Fi internet network would succumb under the large amount of people using it and it was next to impossible anyway to find a place with a power socket to charge your laptop.
In almost each and every aspect, the Turkish Airlines lounge at the new Istanbul Airport is much better.
However, it did have some great elements which are missing at the new airport and I do still have fond memories about all the times I visited this lounge.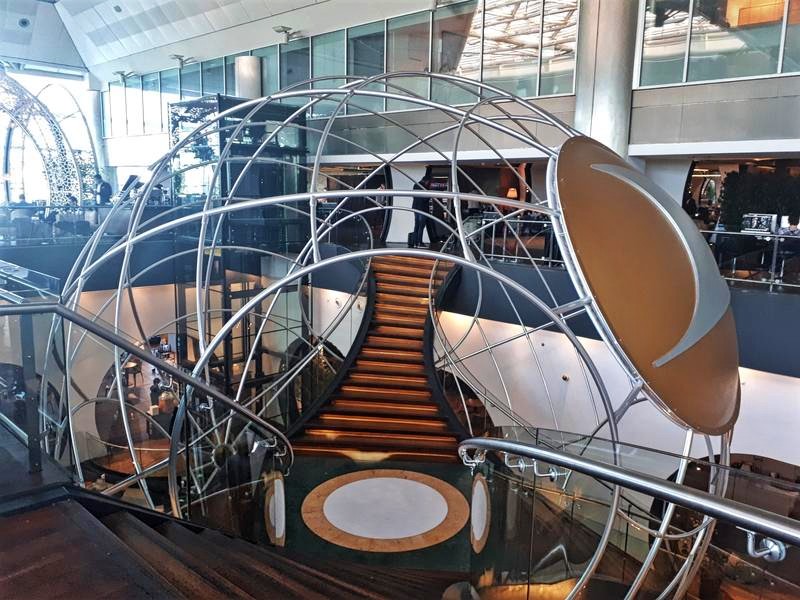 A day in the lounge
On my trip to Uzbekistan I ended up staying the entire day in the Turkish Airlines Lounge at Istanbul Ataturk Airport, which was hardly a crime.
Sure, I would have rather left the airport and gone into Istanbul during my layover as it's one of the most fantastic cities in the world.
However, as I had some work to do, I was confined to the lounge.
The Turkish Airlines Lounge at Istanbul Ataturk Airport spans two floors and is absolutely huge and can easily seat a thousand or so people.
I have always loved the design of this lounge.
The designers created different seating areas, each having a very distinct character.
Some parts of the lounge felt like a summer garden thanks to the white gazebo-like structures, while other parts reminded me more of a hobbit house with their vault-like design.
I wouldn't be surprised if the lounge designer watched Lord of the Rings before taking out his sketchbook and coming up with this!
Food
Food has always been a strong point of the Turkish Airlines Lounge at Istanbul Ataturk Airport.
Besides an extensive buffet, the lounge also features several live cooking stations where you can get such dishes as pide (Turkish flatbread pizza), manti (dumplings) and grilled meats such as kofte (spiced Turkish meatballs).
The lounge also had a food stall where they would cook a different dish every few weeks from somewhere across the world.
When I visited the lounge the theme of the week was 'India' and there was some freshly cooked chicken tikka masala available.
I certainly enjoyed my share of food when I visited the lounge for the last time ever, indulging in of all the earlier mentioned dishes as well as a couple of desserts.
Pool table
During my visit, I managed to work until 4pm and then killed the rest of the time until my flight departure by relaxing in the downstairs tea garden, which has a big selection of Turkish and foreign teas.
In the evening I played a few rounds of pool against some Algerian passengers who were heading to Algiers.
The pool table and the library section of the lounge were always among my favourite parts of the Turkish Airlines at Ataturk Airport and it's a shame that those were not moved over to the new Istanbul Airport.
It's such a great feature that encourages passengers from all over the world to socialise with each other – more airport lounges should have their own pool table!
Conclusion
Although Istanbul Ataturk Airport was never one of my favourite airports, I did have a soft spot for the old Turkish Airlines lounge there.
Sure, the lounge had some of the same drawbacks as the airport in general as it was often overcrowded, but I always liked the lounge design and facilities.
On my journey from Moldova to Uzbekistan I had the pleasure to spend almost a full day in the lounge.
Although I spent most of my time in the lounge working on my laptop, I still had some hours left to enjoy the food and drinks in the Turkish Airlines lounge and a couple of games of pool against some other travellers.
Trip report index
This article is part of the 'From Uzbekistan With Plov' trip report, which consists of the following chapters:
1. Review: Prietenia Night Train Bucharest to Chisinau
2. Chisinau Guide: A Visit to Moldova's Capital
3. Istanbul Ataturk Airport and the Turkish Airlines Lounge (current chapter)
4. Review: Turkish Airlines Business Class Airbus A330
5. Tashkent Travels: A Day in the Capital of Uzbekistan
6. Tashkent to Samarkand by Uzbekistan Railways 'Shark' Train
7. Samarkand Visit Guide: Travelling Through Silk Road Splendour
8. Review: Afrosiyob High-Speed Train Samarkand to Bukhara
9. Bukhara: Exploring Unique Historic Sights and Timeless Charm
** rest of the chapters to follow soon **