Review: Hotel Central, A Prague Art Nouveau Delight
This review covers a stay at K+K Hotel Central, a historic Art Nouveau hotel in Prague, Czech Republic.
Prague Art Nouveau hotel
After a fun ride on the Metropolitan EuroCity train from Brno, I had finally arrived at my destination of Prague.
The next couple of days would basically be about two things I really love: Art Nouveau and beer.
Needless to say, the Czech Republic and its capital of Prague is one of the best places in the world to sample both of them!
From Prague's main train station – magnificently built in Art Nouveau style – it was an easy 10-minute walk to the K+K Hotel Central where I would stay.
K+K Hotel Central check-in
The reason why I chose to stay at the K+K Hotel Central was simple: The hotel is located in a stunning Art Nouveau building in the heart of Prague.
Both the façade as well as the entrance to the building are magnificent examples of Art Nouveau, although the hotel's reception desk itself is somewhat disappointingly modern in design.
However, service was friendly and quick and within seconds I had the key to my hotel room in hand.
I paid 80 euro per night for a double room with queen bed, a rate which did not include breakfast.
Art Nouveau elements
Prague's Hotel Central was designed by Austrian architect Friedrich Ohmann in Historicist and Art Nouveau style.
The hotel was completed in 1901 and became a Prague favourite almost overnight, with guests such Auguste Rodin staying here in 1902 and the likes of Franz Kafka and Karl Kraus frequenting the bar and exhibition hall.
The wonderful Art Nouveau elements of the façade and entrance extend to the staircase and the lift of the hotel.
It made it hard to choose whether to take the elevator or to simply walk up the stairs!
The decorative windows and the wonderful floral and geometric paintings on the wall are a perfect example of peak Art Nouveau style.
However, also the lift is absolutely stunning with its artistic Art Nouveau ironwork.
Double room
Although it was a bit disappointing that my room didn't have any Art Nouveau design elements, it was however clean and comfortable.
The rather non-descript and even slightly dated look of the room isn't surprising if you look at the hotel history.
Hotel Central was left to decay somewhere in the middle of the 1970s after the Czech communist regime closed the premises when too many artists criticised the authorities while performing in the hotel's theatre and exhibition hall.
In the year 2002, K+K Hotels bought the property and started a major renovation and reconstruction of the building.
Although most of the public spaces of the hotel have been beautifully renovated and still have that timeless turn-of-the-century feel, the 2000s room décor is rather forgettable.
That said, the room has all the facilities you might expect at this price level and featured a desk, little sitting corner, flat-screen TV, bedside power sockets, safe, kettle, climate control and plenty of storage space.
The queen bed itself was comfortable and I managed to have some good quality nights of sleep at the hotel.
Bathroom
The en-suite bathroom of my hotel room was clean and had a combined bathtub and shower.
The bathroom was equipped with a hairdryer and standard toiletries.
Public spaces
It's well-worth it to take a stroll through the public areas of the hotel to admire the architecture.
When Hotel Central was renovated between 2002 and 2004, new elements were introduced in the design, although K+K hotels did cooperate with a heritage preservation expert to restore the old Art Nouveau details.
What you see now is a curious mix between Prague's lovely Art Nouveau architecture of the 1900s and some modern design elements.
Even though I'm personally not a big fan of modern, minimalistic architecture and design, I do think they generally did an excellent job with the public areas of the hotel.
At some places you can clearly see the original characteristics and functions of some of the spaces.
For example, the carpeted staircase with high-ceiling curtains gives away that this used to be the grand entrance to the hotel's on-site theatre.
Although I didn't check them out during my stay, K+K Hotel Central Prague also has a small fitness centre and a wellness area, which are both located in a part of the hotel's basement where an Art Deco bar used to be in the 1930s.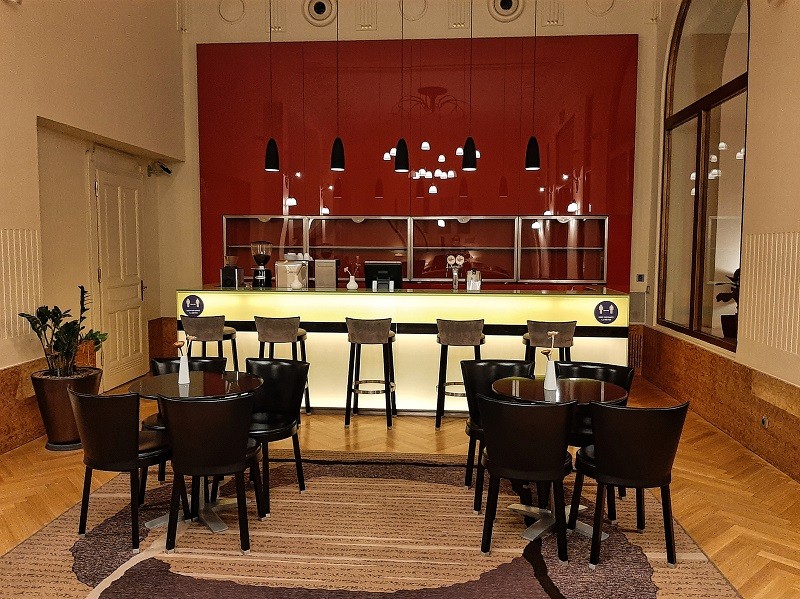 Breakfast room
As I had a rather busy schedule during my stay in Prague which meant getting up early each day, I didn't bother with paying for the breakfast buffet at the hotel.
However, do take a look in the breakfast dining room – even if it's outside of breakfast hours.
Breakfast is served in the room which used to be the hotel's theatre and it still has that old grandeur of the early 1900s thanks to the vaulted glass ceiling.
A modern glass structure stands in the middle of the space, with the top deck being used for the breakfast buffet and the ground floor being a conference and meeting room.
Sparkling wine
I had booked my stay at K+K Hotel Central Prague through Hotels.com, which I think is a great website to book accommodation thanks to its "stay 10 nights, get your 11th night for free" rewards programme.
As a silver member in their rewards programme, I got the extra benefit of a free bottle of Czech sparkling wine while staying at K+K Hotel Central, which was a nice touch.
Hotel location
K+K Hotel Central has a convenient location as all the old town sights of Prague are within walking distance.
In the direct environment of the hotel there are plenty of cafés, pubs and restaurants to grab a drink or something to eat.
If you just walk out of the street on which Hotel Central is located, you will come across the 15th century Gothic Powder Tower and the wonderful Art Nouveau café and concert hall of the Municipal House, both Prague landmarks in their own right.
The main old town square is around 10 minutes away on foot while the Charles Bridge can be reached within 15 to 20 minutes walking time.
Prague's secondary Masyrek train station (Masarykovo nádraží) is 2 minutes away on foot while the city's main train station (Praha hlavní nádraží) is just 10 minutes away.
Bus, tram and metro stops are just a few minutes walking too.
Conclusion
If you love Art Nouveau and are looking for a historic place to stay in Prague, K+K Hotel Central will fit the bill.
Hotel Central is a true Art Nouveau masterwork and a well-known Prague establishment, it being full of lovely architectural and design details and having a rich history.
The building's façade, staircase, lift and public spaces are lovely restored and have a timeless charm.
Although my room was a bit disappointing design-wise as it did not feature the same lovely Art Nouveau details but rather a charmless, generic early 2000s interior, it was clean and comfortable and had all the amenities you might expect for a mid-range hotel.
Moreover, I found the hotel's employees to be friendly and helpful and you really can't beat the old town location.
Trip report index
This 'Trains, Planes, Beer and Tapas: A Trip to Prague and Madrid' trip report consists of the following chapters:
1. Review: Ryanair Bucharest to Chania (Boeing 737-800)
2. A Rainy Chania Stopover
3. Ryanair Hell: My Bad Chania to Budapest Flight Experience
4. Review: T62 Hotel, Budapest, Hungary
5. Review: EuroCity Train "Hungaria" Budapest to Brno
6. A Walk Through the Historic Old Town Centre of Brno
7. Review: EuroCity Train "Metropolitan" Brno to Prague
8. Review: K+K Hotel Central, A Prague Art Nouveau Delight (current chapter)
9. Beer Boozing in Prague: Sampling Some Czech Brews
10. Praha Hlavní Nádraží – Prague's Stunning Art Nouveau Station
11. Review: Leo Express Train Prague to Olomouc
12. Olomouc Guide: Baroque and Belle Epoque Beauty
13. Review: RegioJet Train Olomouc to Prague
14. Review: Erste Premier Lounge Prague Airport
15. Review: Air France HOP Business Class Embraer 170
16. Review: Air France Schengen Business Lounge Paris CDG Terminal 2F
17. Review: Air France Business Class Paris CDG to Madrid (Airbus A220)
18. A Madrid Tapas Crawl: Bar Hopping in Spain's Capital
19. Review: Ibis Madrid Aeropuerto Barajas
20. Review: Puerta de Alcala VIP Lounge Madrid Airport
21. Review: Air Europa Economy Class Madrid to Milan (Boeing 787)
22. How To Transfer Between Milan Malpensa and Bergamo Airport