Review: Saudia Business Class Jeddah to Kuala Lumpur (Boeing 787)
In this review, we will take a Saudia (Saudi Arabian Airlines) flight from Jeddah to Kuala Lumpur in business class on a Boeing 787.
Boarding
After an excellent first flight on the Saudia Airbus A320 with all-lie flat business class seats and a downright poor ground service at the horrible South Terminal of Jeddah Airport I was curious how the final part of my Saudia flight itinerary would play out.
Jeddah's South Terminal only has five bus gates, which means that there is not any priority boarding.
After scanning your boarding pass you are led a floor down by escalator, lift or stairs into a holding pen, from where you are brought by bus to the aeroplane.
Jeddah (JED) to Kuala Lumpur (KUL) on Saudia
Flight SV834 – Boeing 787-10 – Business class, seat 1L
Departure: 1.45am – Arrival: 3pm
Flight time: 8h15m – Distance: 4,394 miles
Costs: 350 EUR for ATH-JED-KUL
Saudia Boeing 787 cabin
Saudia's Boeing 787-10 Dreamliner has a total of 357 seats: 24 in business class and 333 in economy class. As I was booked in business class I headed left into the business class cabin upon boarding the plane.

Saudia uses reverse herringbone seats in a 1-2-1 layout, which means that every seat has direct aisle access.
Of course, these B/E Aerospace Super Diamond seats as they are officially called turn into fully flat beds at the push of a button.
I thought the cabin looked aesthetically beautiful in its understated way using light colours such as white, grey and beige and faux wooden panels next to each seat.
The Saudia Boeing 787 seat
As all seats are positioned away from the aisle it means that you have maximum privacy.
There are really no bad seats in this configuration, although when you are travelling alone you should arguably choose a window seat.
I would however not opt for a window seat in row 5, as these seats have a misaligned window.
Couples are better off selecting the middle seats, although even as a single traveller you really cannot go wrong with a middle seat as you can raise the divider between the seats after take-off.
At each seat, a blanket and pillow was waiting.
On top of the compartment next to each seat you can find a headphone case, small bottle of water and the menu for the flight – all of them being beautifully arranged by the crew.
Taking a closer look at the seat
I had assigned myself seat 1L in the front of the cabin.
Even though on paper the seat is located close to a lavatory and the galley in front of the plane which might be reason enough for some people to avoid this seat, I did not find it bothersome at all.
The lavatory door is still located a few feet further away down the aisle and I never heard any noises at all from a flushing toilet or the crew working in the galley.
Each seat contains a lot of storage space. The footwell has enough space underneath to store a small bag.
On both the left and the right of your seat is a console which you can open to store additional smaller items such as a pair of glasses or your passport and wallet.
This way, you can always keep your most needed and valuable possessions close.
Each seat also has some USB outlets as well as a power socket to keep your electronics charged.
Although the Saudia Boeing 787 is equipped with satellite internet, it was not functioning at all (or simply switched off the entire time?) during this flight.
TV screen and tray table
One aspect which you immediately notice when looking at the Saudia 787 business class seat is the large TV screen in front of you.
The TV is in a fixed position, with the roll-out tray table located underneath it.
This has the additional advantage that you can move the tray table back and forth when seated, meaning that you can easily get out of your seat even during meal time.
Seat controls
The in-flight entertainment system can be used by tapping the touch screen or by using the remote controller located in each seat.
At each seat you will also find the controller to adjust all aspects of your seat.
With a single push of the button you can put your seat in fully flat mode. Of course, you can also adjust your seat recline and footrest manually to whatever position you prefer.
IFE
The in-flight entertainment selection was seemingly the same as on my previous Saudia flight on the Airbus A320.
The selection of films and series is quite good. It is by no means as exhaustive such as airlines like Emirates have, but it wasn't bad either.
There seemed to be a good mix between classic movies, new released and episodes of popular TV series.
Just take into account that according to the country's Islamic principles, some scenes might be edited out of movies (think about romantic kisses, sex, overt homosexuality etc).
The Saudia headphones are decent enough quality, although by no means as good as full sound-cancelling Bose headphones.
Amenity kit
Just a few seconds after I sat down in my seat the flight attendant serving my aisle passed by to formally introduce herself and to welcome me on board.
This was followed by the male senior purser and the on-board chef doing the exact same.
The on-board chef told me that I could order anything from the menu anytime I wanted as the airline shifted to a dine-on-demand concept in business class instead of opting for fixed meal times.
The female flight attendant serving my aisle passed by again some minutes later to hand out amenity kits.
The Saudia amenity kit was made by Missoni and actually rather swish.
The leather pouch contained Grown Alchemist toiletries and all other essentials like an eye mask which you might need during the flight. It also contained a pair of socks.
Pre-departure beverage service
Just like on my previous Saudia flight, the flight attendant asked me whether I wanted any pre-departure beverage, allowing me to pick any drink from the menu.
I opted for a refreshing glass of lemonade.
Soon before we departed towards the runway the crew came by again for the traditional Arabic coffee and dates, which is a welcome tradition on board many Arab airlines in business class.
There was even the choice out of several different types of dates.
Pre-departure prayer
While we were slowly taxiing towards the runway a brief and basic safety video was played on the screen.
This was followed by a traditional prayer which is broadcast by Saudia before take-off.
This is an old prayer which the prophet Muhammad used to say before embarking on one of his journeys, wishing for a smooth and fast journey without any ill outcome to his or his family's health.
Take-off
The Boeing 787 took off on time from Jeddah Airport.
Although I don't think it is as quiet as the Airbus A350, the Boeing 787 is surely a lot more silent than older generation planes such as the Airbus A330 and Boeing 777 – which clearly increases the comfort on board.
The business cabin was completely full for today's flight to Kuala Lumpur – and most people seemingly went straight to sleep as soon as the fasten seatbelts sign went off.

Dine on demand
For review purposes (alright, and because I love food) I decided against sleeping immediately and took up the offer of the on-board chef that I could order food any time I wanted during the flight.
Saudia has tweaked its on-board food and beverage service in business class to a full dine on demand product.
This is most notable on flights with a red-eye departure time such as this 2am flight to Kuala Lumpur.
Menu
Prior to Saudia overhauling its on-board soft product it was not uncommon for the airline to have a full meal service straight after departure on flights departing late at night.
Needless to say, this can be bothersome for people who have already dined and wish to go straight to sleep – which is not surprising given the time.
The new dine on demand menu on flights like this has therefore listed breakfast as the main meal of the flight – and some 'light dining' options for those who still might want a snack after departure or mid-flight.
That said, even though some courses are listed under 'light dining' does not mean that portions are necessarily small!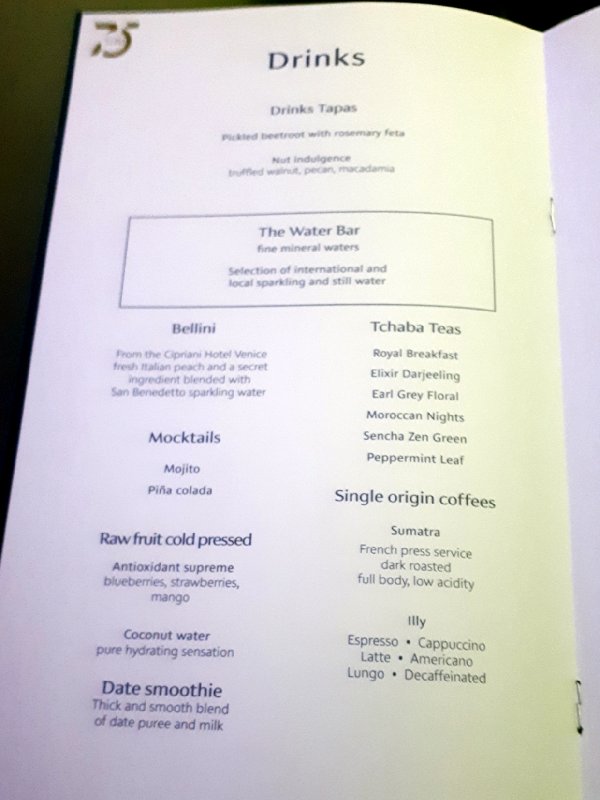 Food
I decided to order both the beef noodle soup and the lamb biryani after take-off when the flight attendant passed by.
Moments later the amazingly friendly on-board chef (who seemed to hail from Indonesia based on his looks and name) returned to confirm my order and to inform me that it would take approximately 20 minutes to prepare the food as the ovens needed to heat up first.
He inquired if I perhaps wanted an aperitif and the 'drinks tapas' listed on the menu while waiting for the food to be ready.
I accepted his offer and ordered the mojito mocktail, which was served with a ramekin of pecan and macadamia nuts and a bowl of pickled beetroot with feta.
The snacks were great – the mojito mocktail tasted unfortunately rather chemical and somewhat off.
The Bellini mocktail which I enjoyed on my previous Saudia flight clearly is the better choice!
Late night dinner
Soon after I finished the tapas the chef arrived back at my seat with the beef noodle soup, which tasted fairly good.
The lamb biryani which followed after was much better – and is easily one of the best dishes I ever ate on a plane.
It was full of flavour, the meat was tender and it packed exactly the right amount of spice.
Time to sleep
To finish the meal, I asked the pro-active flight attendant serving my aisle for a cup of 'Moroccan Nights' tea, which was presented with some shortbread.
While sipping my tea I watched the remainder of 'Lord of the Rings: The Two Towers'.
It was tempting to watch the entire trilogy on my TV screen during the flight to Kuala Lumpur, but I wisely decided it was better to get some shut-eye.
Breakfast
I managed to get a solid three-and-a-half hours of sleep before I woke up again.
Checking the route map I saw that there were only two hours left to go until we reached Kuala Lumpur. I therefore decided that it was perhaps better to fully wake up.
I quickly refreshed myself in the toilet and when I came back to my seat, the flight attendant immediately walked up to me to ask whether I wanted to have breakfast and a drink.
I ordered a glass of fresh orange juice and the Arabic breakfast set, which came with a first course of hummus, moutabal, labneh and kibbeh.
The starter was beautifully presented, with proper table cloths being put on your tray table.
I was also given my own little bread basket which was well-stocked with several types of bread.
A slight mistake
For my second course, I asked for the shakshouka – which is one of all-time favourite breakfast dishes.
Unfortunately, the crew made some sort of a mistake as they came back with a portion of scrambled eggs.
When I asked them about my shakshouka – the chef apologised and took the plate back to the galley, only to return moments later with the same plate with some sausages added extra to the dish!
As it seemed it was probably all a big misunderstanding between the crew and me (perhaps not helped by the fact that although their English was certainly good – it was certainly not fluent) I decided not to push it and to keep my scrambled eggs.
It was probably a good choice as the dish was excellent.
The second course also contained some smoked salmon and a side dish of fresh forest fruits.
There are certainly worse moments in life than eating such a breakfast while admiring the views out of the big windows of the Boeing 787!
Service
I have to say that despite the small mistake with the breakfast service I thought the service on board was flawless.
Just like on my previous flight, the service was genuinely friendly. All flight attendants, as well as the purser and on-board chef, were extremely welcoming and pro-active.
It clearly shows that Saudia has not only managed to tweak its soft product when it comes to food and beverages, but also when it comes to the training of the crew.
Although it is not on the same world class level of professionalism as let's say Singapore Airlines crews, I thought they really were excellent.
Coffee
To finish my breakfast I ordered another espresso, which was beautifully presented on a tray next to a glass of water.
Saudia nowadays serves proper coffee made by Illy on board its flight – and the espresso and cappuccino are as good as you can get on the ground.
Landing in Kuala Lumpur
Before I knew it the captain announced that we were about to descend into Kuala Lumpur, after which the crew slowly prepared the cabin for landing.
The large windows on the Boeing 787 make for some excellent views down the plane window over the lush Malaysian rain forests.
After a slow and steady descent we touched town safely at Kuala Lumpur International Airport just before our scheduled arrival time.
After a short while taxiing we parked at our gate at Satellite Terminal A of 'KLIA' – the acronym the Malaysians tend to use when referring to their main airport.
Conclusion
This was another excellent Saudia flight which unfortunately passed by way too fast.
To begin with the seat, the reverse herringbone seat on Saudia's Boeing 787 is one of the best business class products you can find in the sky at the moment.
The seats offer all aisle-access, maximum privacy, lots of storage space and are comfortable both in recline position as well as in fully flat mode.
Service on Saudia has gone up remarkably. I always thought that Saudia had a decent in-flight product, although the recent changes and tweaks to its on-board soft product has clearly elevated the airline to the next level.
With excellent dine on demand cuisine, a great selection of (non-alcoholic) drinks and proper coffee, Saudia can for sure compete with the best.
The same can be said about the flight attendants. Service was pro-active, smooth and polished. I actually found the crew genuinely warm and welcoming, proud about their product and clearly pleased that you have chosen Saudia.
I fully get that flying Saudia might not be something for everyone who reads this. Some people might object to the country's bad human rights record, others might balk at the thought of flying a dry airline as they want their glass of champagne in business class. There is something to be said for both.
With some flights still being operated from Jeddah's atrocious South Terminal, the Saudia ground service is a far cry away from its competitors, although this should change as soon as the city's new airport terminal is fully functional.
Also the internet connection (fickle on my previous flight – completely non-functioning on this flight) is an area where the airline can improve.
That said, considering the actual hard product of the great Boeing 787 seat and given that I slept well and was well-fed, I really cannot complain much at all. I would certainly be pleased to fly Saudia again in the future!

Trip report index

This article is part of the 'Lazing in Laos and Gallivanting a Wee Bit Around Asia' trip report, which consists of the following chapters:
1. Review: Aegean Airlines Business Class Bucharest to Athens (Airbus A320)
2. Review: Goldair Handling Lounge (Non-Schengen) Athens Airport
3. Review: Saudia Business Class Athens to Jeddah (Airbus A320)
4. Review: Saudia Alfursan Lounge Jeddah Airport South Terminal
5. Review: Saudia Business Class (Boeing 787) Jeddah to Kuala Lumpur (current chapter)
6. Review: CitizenM Hotel Kuala Lumpur Bukit Bintang
7. Kuala Lumpur in One Day: What to See and Do in 24 Hours
8. A Batu Caves Half Day Trip From Kuala Lumpur By Public Transport
9. Review: Plaza Premium Lounge Private Resting Suite Gateway KLIA2
10. Review: Air Asia Kuala Lumpur to Vientiane (Airbus A320)
11. Review: Hotel Khamvongsa, Vientiane, Laos
12. Destination Trip Report: A Day in Vientiane, Laos
13. Guide: Domestic Bus Travel in Laos and How to Book a Ticket
14. Review: Simon Riverside Hotel, Vang Vieng, Laos
15. Trip Report: Vang Vieng – Worth a Stop on Your Laos Itinerary?
16. Review: Villa Ban Phanluang, Luang Prabang, Laos
17. Luang Prabang: The Stunning Pearl of Indochina
18. Guide: Luang Prabang Morning, Food and Night Markets
19. Kuang Si Falls: A Gorgeous Luang Prabang Day Trip
20. Review: Thai Smile Economy Class Luang Prabang to Bangkok (Airbus A320)
21. Review: Ibis Styles Bangkok Sukhumvit 4
22. Review: Air France/KLM Business Lounge Bangkok Airport
23. Review: Garuda Indonesia Business Class Bangkok to Jakarta (Boeing 737-800)
24. Review: Sapphire Plaza Premium Lounge Terminal 3 Jakarta Airport
25. Review: Garuda Business Lounge Terminal 3 Jakarta Airport
26. Review: Review: Japan Airlines Business Class Jakarta to Tokyo Narita (Boeing 787-8)
27. Review: Capsule Hotel Transit Shinjuku, Tokyo, Japan
28. Tokyo Stopover: What to See and Do in the Capital of Japan for a Day
29. Review: ANA Business Lounge Tokyo Narita Airport
30. Review: United Club Tokyo Narita Airport
31. Review: Turkish Airlines Economy Class Tokyo Narita to Istanbul (Boeing 777)
32. Review: Turkish Airlines Miles&Smiles Lounge Istanbul Airport
33. Review: Turkish Airlines Economy Class Istanbul to Bucharest (Airbus A330)