Review: Plaza Premium Lounge Private Resting Suite Gateway KLIA2
In this review, we will stay in a private resting suite in the Plaza Premium Lounge in the Gateway Mall adjacent to Kuala Lumpur International Airport Terminal 2 (KLIA2).
Early flight
As I had an early Air Asia flight to Vientiane out of Kuala Lumpur Airport I mulled what the best option would be for accommodation the night before.
I could stay another night at the excellent citizenM Bukit Bintang, although that would require a very early wake up to catch a taxi to the airport which is located about an hour to one-and-a-half hour out of the city centre.
Airport hotel
In the end I decided it would be a better bet to stay the night in an airport hotel. Unfortunately, the choice of hotels is rather limited at Kuala Lumpur International Airport (KLIA), especially so at the separate terminal 2 (KLIA2) where low-cost airlines such as Air Asia operate from.
Although there are a few hotels in the nearby city of Sepang just a few miles away, it would still require me to take an early morning taxi or airport shuttle which is not ideal. Fortunately, KLIA2 has the option of the Plaza Premium Lounge which besides being a normal airport lounge doubles as an airport hotel.
Plaza Premium Lounge
There are two Plaza Premium lounges at KLIA2 – one in the international departures area and one in the Gateway mall adjacent to the airport.
With the lounge in the international departures area being primarily for transit passengers and because I wasn't sure whether I could access it by exiting Malaysian immigration already the evening before the flight (let alone procuring a boarding pass and checking in my bag) the Gateway lounge remained the only option for me.
Booking the Plaza Premium Lounge
I booked my stay through Booking.com which offered a 252 MYR (53 EUR) rate for a suite room for 12 hours, which includes full access to the lounge buffet throughout the stay. Other hotel websites offered similar rates.
Note that it is vital to correctly communicate your arrival time – as you will only have access to your room for 12 hours from the time you check in.
Getting to KLIA2
After a full day of sightseeing in Kuala Lumpur and making a trip to the Batu Caves it was time to head to the airport in the evening of my second day in the city.
As I spent a bit of time working at the hotel bar of the citizenM where I had spent the night before and had my luggage stored, I decided that I could as easily opt for public transport to the airport instead of taking a taxi.
KLIA Express Train
I walked to the nearby monorail station of Imbi, from where I took a train to its terminus at KL Sentral, the city's main railway station. From KL Sentral there are frequent commuter and slightly more expensive non-stop express trains to the airport.
As the price difference was negligible, I just opted for the first train out of the station, which turned out to be an express train departing in ten minutes. The train was perfectly comfortable and featured WiFi and plenty of places to store your luggage.
The train runs non-stop to the airport, halting first at the main Terminal 1 (KLIA1) and continues afterwards to its terminus at KLIA2.
KLIA2 Gateway
It was rather easy to find the Plaza Premium Lounge as the airport train basically already drops you off in the basement of the Gateway complex adjacent to the airport terminal.
All you need to do is to head up to level 2M of the complex and to find the entrance to the lounge, which is located between some shopping centre restaurants.
Even though I arrived an hour or so before the time I originally communicated, the friendly receptionist noted this was not a problem and said that my 12-hour stay would start from the moment after check-in. If for whatever reason you might find yourself arriving hours earlier or later I would however definitely communicate this with the lounge in advance if you can to make sure this will not cause any problems with room availability.
Private resting suite
I had booked what was billed as a 'suite room' and was given a key card for suite 3, which turned out to be the furthest located room of the lounge.
The room itself was small, basic but functional. It had a single bed on the right, a sort of bench to place your luggage on the left and a small platform on which two complimentary bottles of water were placed. There were plenty of power sockets in the room and WiFi reception was decent despite the room being located the furthest away from the main lounge area.
The room also has a private bathroom, which was about the same size of the actual bedroom and consisted of a shower, toilet and wash basin. Both the bathroom and the bedroom were spotlessly clean.
Lounge buffet
If you book a room at the Plaza Premium Lounge you have also access to the lounge buffet throughout your entire stay, which makes it quite good value for money.
As I did not had dinner yet I decided to check out the buffet. Although the buffet was for sure not extensive in quantity, nor particularly great in quality, it was really not bad at all. There were several hot dishes, some of which looked more appetising than the others. I tried some of the noodles and garlic chicken – which were both decent.
There are coffee machines and teas, plenty of sodas in the fridges, as well as draught beer where you can tap your own pint of Carlsberg. Considering that beer is relatively expensive in Malaysia, this alone is a nice touch for those who like a nightcap or two as it will definitely save you a few dozen quid. Note that no other alcohol besides beer is available in the lounge.
I also found the area a good spot to get a bit of work done in the evening as there were never more than four or five other travellers around, creating a calm environment in what can be at times a hectic airport.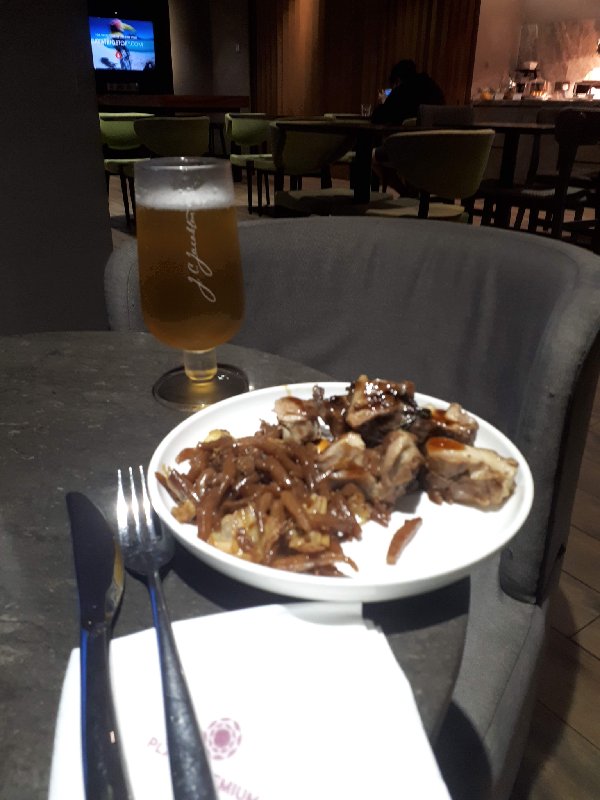 Breakfast
If you stay overnight like I did, you can of course also have a quick breakfast in the lounge before checking out. That said, I found the breakfast offers to be quite subpar – especially when comparing it with the much better dinner options brought out in the evening.
It was basically the choice between a congee and some stale croissants – so I decided to just have a quick orange juice and coffee before checking out of the Plaza Premium Lounge and heading to the check-in area of KLIA2.
Check-in area
After checking out at the reception desk the next morning it was a straightforward five minute walk to the Air Asia check-in desks at KLIA2.
When it comes to location, the Plaza Premium Gateway Lounge is really unbeatable. When comparing myself to other travellers – some of them looking dead tired having to wake up at 2am in their KL hotels – I really felt like I made the right decision to stay here. It is not often that I feel fresh and awake when taking an early morning flight – and for sure the Plaza Premium Lounge played a big role in this.
Noise
Although I managed to have an excellent (but relatively short) night of sleep in my suite, I must mention that the rooms are a bit prone to sounds coming from the Gateway complex.
As the Gateway is basically an airport shopping mall adjacent to the main check-in area of KLIA2, there are quite some travellers passing by day and night, as well as some airport announcements made throughout the night. Of course, then there are also other lounge guests walking through the corridors after checking in or out at all kinds of late night hours.
Even though these sounds are all a bit muted a keen ear will still hear them, so I would recommend light sleepers to bring some earplugs. It really did not bother me for a single bit but given the fact that I could hear these sounds I thought that I should mention it here.
In short
If you go in with the right expectations the 'suite' will definitely suffice for a quick night stay before your flight. Sure, it is all a bit no-frills, the room is a bit small, but the bed and shower are comfortable and it does the trick for a one-night stay before your flight.
The lounge buffet is another big plus – especially if you like to drink a beer or two. Having two beers with my meal and two beers while getting some work done afterwards basically saved me at least 20 quid considering Malaysian alcohol prices, which really improves the value for money aspect.
If you need more luxury, by all means opt for a hotel in nearby Sepang or in Kuala Lumpur proper, but if your goal is to arrive fresh and awake for your early morning flight out of KLIA2, then the Plaza Premium Lounge is a great option.
If I would have another early flight from KLIA2 in the future I would book another suite in a heartbeat.
Trip report index

This article is part of the 'Lazing in Laos and Gallivanting a Wee Bit Around Asia' trip report, which consists of the following chapters:
1. Review: Aegean Airlines Business Class Bucharest to Athens (Airbus A320)
2. Review: Goldair Handling Lounge (Non-Schengen) Athens Airport
3. Review: Saudia Business Class Athens to Jeddah (Airbus A320)
4. Review: Saudia Alfursan Lounge Jeddah Airport South Terminal
5. Review: Review: Saudia Business Class Jeddah to Kuala Lumpur (Boeing 787)
6. Review: CitizenM Hotel Kuala Lumpur Bukit Bintang
7. Kuala Lumpur in One Day: What to See and Do in 24 Hours
8. A Batu Caves Half Day Trip From Kuala Lumpur By Public Transport
9. Review: Plaza Premium Lounge Private Resting Suite Gateway KLIA2 (current chapter)
10. Review: Air Asia Kuala Lumpur to Vientiane (Airbus A320)
11. Review: Hotel Khamvongsa, Vientiane, Laos
12. Destination Trip Report: A Day in Vientiane, Laos
13. Guide: Domestic Bus Travel in Laos and How to Book a Ticket
14. Review: Simon Riverside Hotel, Vang Vieng, Laos
15. Trip Report: Vang Vieng – Worth a Stop on Your Laos Itinerary?
16. Review: Villa Ban Phanluang, Luang Prabang, Laos
17. Luang Prabang: The Stunning Pearl of Indochina
18. Guide: Luang Prabang Morning, Food and Night Markets
19. Kuang Si Falls: A Gorgeous Luang Prabang Day Trip
20. Review: Thai Smile Economy Class Luang Prabang to Bangkok (Airbus A320)
21. Review: Ibis Styles Bangkok Sukhumvit 4
22. Review: Air France/KLM Business Lounge Bangkok Airport
23. Review: Garuda Indonesia Business Class Bangkok to Jakarta (Boeing 737-800)
24. Review: Sapphire Plaza Premium Lounge Terminal 3 Jakarta Airport
25. Review: Garuda Business Lounge Terminal 3 Jakarta Airport
26. Review: Review: Japan Airlines Business Class Jakarta to Tokyo Narita (Boeing 787-8)
27. Review: Capsule Hotel Transit Shinjuku, Tokyo, Japan
28. Tokyo Stopover: What to See and Do in the Capital of Japan for a Day
29. Review: ANA Business Lounge Tokyo Narita Airport
30. Review: United Club Tokyo Narita Airport
31. Review: Turkish Airlines Economy Class Tokyo Narita to Istanbul (Boeing 777)
32. Review: Turkish Airlines Miles&Smiles Lounge Istanbul Airport
33. Review: Turkish Airlines Economy Class Istanbul to Bucharest (Airbus A330)