Review: Sapphire Plaza Premium Lounge Terminal 3 Jakarta Airport
In this review, we will check out the 'Sapphire Plaza Premium Lounge' in Terminal 3 (international departures) of Jakarta Soekarno-Hatta International Airport.
Changing flights
After a great flight on Garuda I arrived in the long arrivals corridor of Jakarta Airport's brand new Terminal 3. It was a long walk from the jet bridge at the far end of the concourse to the other end, where both transit and passport control booths are located.
From here, passengers heading into Jakarta or connecting to a domestic flight have to clear immigration, while those connecting on an international flight have to head upstairs by escalator. There is a security check here where your carry-on luggage is scanned. Fortunately there was no queue at all and I was again landside in within minutes.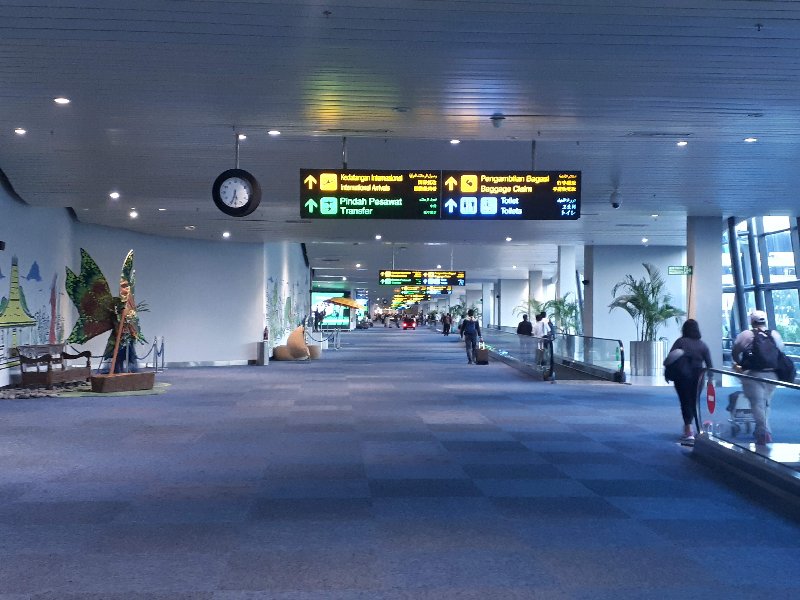 Terminal 3
Jakarta's Terminal 3, from which most international flights depart, is a gleaming modern facility and still looks and feels brand new despite being already opened four years ago. I have flown from the domestic part of the terminal before on a Garuda flight to Yogyakarta – which looked similar to the international part in both looks, size, facilities and shops and restaurants.
Don't underestimate walking distances at this terminal as it can easily take a good 20 minutes to walk from one end to the other end of Terminal 3 due to the spacious lay-out and the gates being quite far apart from each other.
As I was flying on Japan Airlines to Tokyo Narita, I had the choice out of two different lounges in Terminal 3: The Garuda Indonesia Business Lounge and the Sapphire Plaza Premium Lounge. As I still had a couple of hours before the departure of my flight I decided to check them both out for a review, starting with the Sapphire Plaza Premium Lounge.
Sapphire Plaza Premium Lounge
The Sapphire Plaza Premium Lounge (misspelled as 'Saphire Plaza Premium Lounge' on both the lounge entrance sign and most online publications) is a contract lounge located almost at the far end of the main concourse of Terminal 3.
If you see the international departure hall of Terminal 3 as the shape of the letter 'L', the lounge is located exactly in the 90 degree corner of both legs forming the letter L.
As a third-party contract lounge, there are quite a few airlines who sent their elite and business class passengers to this lounge. The lounge also accepts Priority Pass holders. If you do not have automatic lounge access, you can also pay for entry at the reception. The current rate is 39 USD for two hours access, or 30 minutes for a shower for 16 USD.
Sapphire Plaza Premium Lounge seating
I was warmly welcomed into the lounge by the two employees at the front desk after a brief check of my boarding pass. It being just after 6pm, the lounge was fairly crowded with a diverse bunch of people occupying the best seats and wandering around all over the place.
As most of the comfortable seats were taken, I managed to snag a barstool at a high bar table, which was still a decent enough option as it was right next to one of the large windows overlooking the apron. The great views from the lounge over the tarmac are definitely one of the more impressive features of this lounge.
When later in the evening the crowds dwindled I managed to get some better pictures of some of the seating options available in the lounge, which range from bar stools to comfortable and highly private chairs in a kind-of beehive lay-out to proper work tables.
There are power sockets at almost every seat and the lounge WiFi was fast, making the Plaza Premium Lounge a good place to get some work done as long as you can get a good seat out of rush-hour traffic.
Although the Plaza Premium Lounge does feel narrow and can feel a wee bit claustrophobic at busy times, it is actually a fairly big lounge due to its stretched lay-out. In the evening hours when most of the crowds had left, the stay was much more pleasant and I got a much better feel and opinion of the lounge.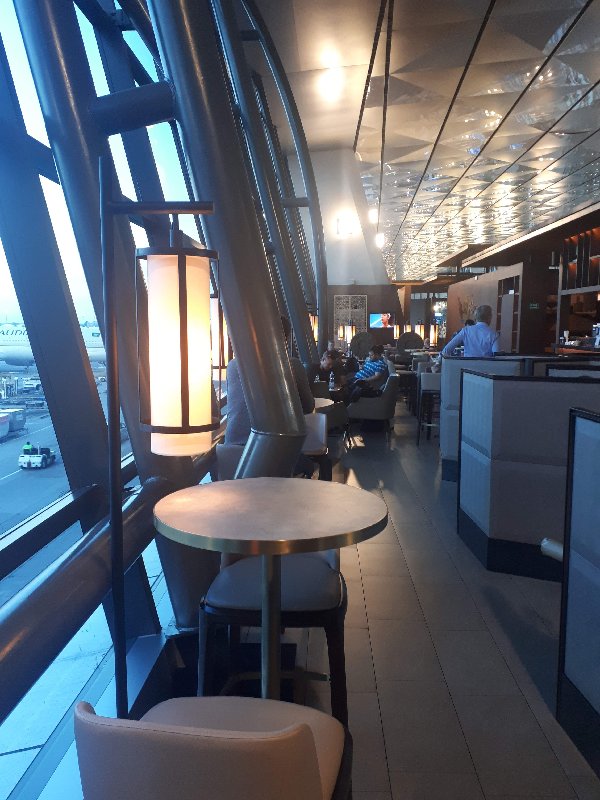 Sapphire Plaza Premium Lounge buffet
The Sapphire Plaza Premium Lounge has a decently sized lounge buffet. At any time of the day you will be able to find a selection of snacks, finger food as well as some cooked meals such as fried noodles, fish and chicken dishes.
The quality of the food as well as the choice of dishes is quite good for a contract lounge. If you haven't had lunch or dinner before your flight, you can definitely get yourself a good hot meal here.
Around the lounge buffet are also self-service fridges with cans of soda as well as big jars filled with different juices and water.
Noodle bar
The lounge also features a bar where you can order complimentary beer and wine. Unfortunately, there are no other alcoholic beverages available, which is something typical of all Indonesian airport lounges from my own experiences travelling through the country.
The beer is just normal lager and the quality of the wines is average at best, so don't get your hopes up too high if having a good drink is important to you.
The bar in the Sapphire Plaza Premium Lounge doubles as a noodle bar and there are several dishes which you can order here as well (all for free). I got some Indonesian meatball noodles from the noodle bar, which was fairly tasty.
Other facilities
The Sapphire Plaza Premium Lounge has relatively big restrooms at the far end of the lounge. They are kept well-after by a toilet attendant and were sparkling clean. The lounge also features showers, although I did not test them out personally.
In short
For a third-party contract lounge, the Sapphire Plaza Premium Lounge was better than I expected. It had comfortable seating with some lovely views over the tarmac, a good lounge buffet and even a noodle bar.
There are however a few downsides to the lounge as well. At 6.30pm, I found the lounge uncomfortably crowded. The Sapphire Plaza Premium Lounge is the designated lounge for quite a few airlines. Given that passengers can also buy entry, it is prone to overcrowding at peak times. Later in the evening the crowds were already a much calmer environment to await my flight.
Another disadvantage is the lack of any alcoholic beverages besides the limited selection of beer and wine, although this is not a lounge-specific issue but something which counts for more or less every other airport lounge in Indonesia as well.
In some aspects I actually preferred the Sapphire Plaza Premium Lounge in comparison to the Garuda Indonesia Business Lounge – so hold on for the next installment in which I will review that lounge!
Trip report index
This article is part of the 'Lazing in Laos and Gallivanting a Wee Bit Around Asia' trip report, which consists of the following chapters:
1. Review: Aegean Airlines Business Class Bucharest to Athens (Airbus A320)
2. Review: Goldair Handling Lounge (Non-Schengen) Athens Airport
3. Review: Saudia Business Class Athens to Jeddah (Airbus A320)
4. Review: Saudia Alfursan Lounge Jeddah Airport South Terminal
5. Review: Review: Saudia Business Class Jeddah to Kuala Lumpur (Boeing 787)
6. Review: CitizenM Hotel Kuala Lumpur Bukit Bintang
7. Kuala Lumpur in One Day: What to See and Do in 24 Hours
8. A Batu Caves Half Day Trip From Kuala Lumpur By Public Transport
9. Review: Plaza Premium Lounge Private Resting Suite Gateway KLIA2
10. Review: Air Asia Kuala Lumpur to Vientiane (Airbus A320)
11. Review: Hotel Khamvongsa, Vientiane, Laos
12. Destination Trip Report: A Day in Vientiane, Laos
13. Guide: Domestic Bus Travel in Laos and How to Book a Ticket
14. Review: Simon Riverside Hotel, Vang Vieng, Laos
15. Trip Report: Vang Vieng – Worth a Stop on Your Laos Itinerary?
16. Review: Villa Ban Phanluang, Luang Prabang, Laos
17. Luang Prabang: The Stunning Pearl of Indochina
18. Guide: Luang Prabang Morning, Food and Night Markets
19. Kuang Si Falls: A Gorgeous Luang Prabang Day Trip
20. Review: Thai Smile Economy Class Luang Prabang to Bangkok (Airbus A320)
21. Review: Ibis Styles Bangkok Sukhumvit 4
22. Review: Air France/KLM Business Lounge Bangkok Airport
23. Review: Garuda Indonesia Business Class Bangkok to Jakarta (Boeing 737-800)
24. Review: Sapphire Plaza Premium Lounge Terminal 3 Jakarta Airport (current chapter)
25. Review: Garuda Business Lounge Terminal 3 Jakarta Airport
26. Review: Review: Japan Airlines Business Class Jakarta to Tokyo Narita (Boeing 787-8)
27. Review: Capsule Hotel Transit Shinjuku, Tokyo, Japan
28. Tokyo Stopover: What to See and Do in the Capital of Japan for a Day
29. Review: ANA Business Lounge Tokyo Narita Airport
30. Review: United Club Tokyo Narita Airport
31. Review: Turkish Airlines Economy Class Tokyo Narita to Istanbul (Boeing 777)
32. Review: Turkish Airlines Miles&Smiles Lounge Istanbul Airport
33. Review: Turkish Airlines Economy Class Istanbul to Bucharest (Airbus A330)